We had a snow day yesterday, again. Don't get me wrong I enjoy the white stuff, but we all have a bad case of cabin fever! We spent our found day of rest yesterday tidying up the house and doing laundry. Playing in the snow was also on the agenda. Mid afternoon The Girls were looking for a snack, The Oldest popped some popcorn and The Youngest chose to have a bento which she h
elped me make.
This is a small two tier box that we got from an Ebay seller.  The top tier has a two color Oreo, some mini yogurt pretzels, a sugar free lime Jello and a twisted cheese stick cut in half.  The bottom tier has mini cucumber slices and baby carrots cut into matchsticks with some freeze dried banana slices in the heart cup.  Most of the sweets in the top tier went uneaten, while she came back twice and asked me to cut some more carrots.  That's new for her, she used to not eat raw carrots.  This was her first try again for them in awhile and she's decided she loves them!  Just goes to show you that you can reintroduce foods to your kids and sometimes they will like them!
That's all for now, I will have an exciting post coming up – yesterday during the snow I tried my hand at making a charaben bento for The Youngest's lunch.  For those of you that don't know what that is check out this page at the fabulous site Just Bento for some how too's and examples.  You're going to be impressed by her fantastic work.  Some more great examples are at Adventures in Bentomaking also.  Don't get too excited, mine is not that good, but I'm very happy with myself and my first try!!   The Youngest was also thrilled, so that's all that matters! 
So have a great day, and don't forget the Friday blog hops!! *motions over to the right yet again*  Just click on the link and you're off to discover some fascinating people!  
-Stephanie
This was added to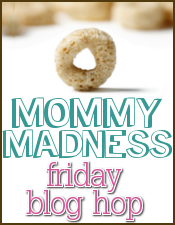 Here's a link to one of my favorite
recipes
that I blogged about!